It's not easy for any child to learn how to swim, but SwimFin is a swimming aid that takes things back to basics by giving your child a real-life fin to help them along while in the water.
The SwimFin is aimed at kids aged two and older, and is effectively an alternative to the standard armbands for helping youngsters learn how to swim. The fin is purposefully shaped like a shark's fin, and is available in various different colours including the expected pink and blue (ours was a pink).
But it's not just about making the notion of learning how to swim fun for youngsters. The problem with armbands is they're attached to the specific parts of the body you need most for learning how to swim – the arms.
And because flotation is centred away from the body, it means the body is more likely to hang in the water with armbands, which again works against the principles you're looking to apply when teaching kids how to swim.
The Swim Fin is different - here's why: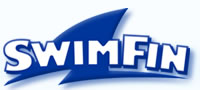 Aside from turning your child into a colourful shark – it keeps the arms completely free by being strapped around the body via a pair of sturdy straps top and bottom. It also promotes a more horizontal position ideal for swimming, but because it's based on a real fin it's also streamlined (as opposed to swimming boards, for instance), and so offers little resistance to being lifted upright should your child wish to lower their feet in the water.
I suspect our experience in strapping the SwimFin onto our three-year-old for the first time was similar to what many parents of younger kids will go through. For a long time she was interested only in the fact that she now looked like a shark, and in the play possibilities that opened up.
But the SwimFin is supposed to be fun after all, and so is learning how to swim – a point that many parents forget, I suspect.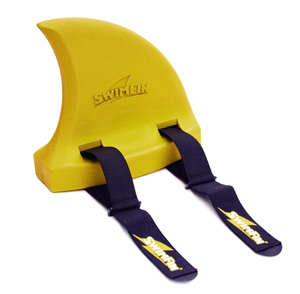 Anyway, once we got past the shark imitations we found the SwimFin largely lived up to what it claims to be. It's important to remember that it's not a pure flotation device, so you should never leave your child unsupervised with it on, especially since it introduces just enough buoyancy to naturally lift their body just enough for their head to drop in response, which they need to get used to before anything else can happen.
That said, the SwimFin is at its most useful during this initial stage of learning how to swim. The bottom line is that a child is in what is largely an alien environment, and the SwimFin immediately feels far more natural than armbands or a flotation board, which makes a big difference.
On the downside the straps are a little heavy duty for younger bodies, and while we didn't have specific problems ourselves, it's easy to see how some parents experience problems with irritation and chafing on their child's skin. If my daughter's swimming costume had an open back, it may have been a little more of a concern, but since it's nicely covered - she has wet suit style costume - it wasn't an issue at all.
Maybe switching to some kind of elasticised harness of some kind would also help secure the SwimFin more naturally, as a slight awkwardness to the fit was another problem we had on occasion.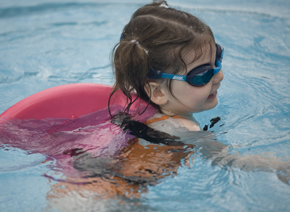 But if you're looking to introduce a swimming aid to help your youngster learn how to swim in a way that impedes them as little as possible, the SwimFin ticks the boxes that. It keeps your child's arms completely free, subtly positions their body correctly for swimming and introduces a healthy dose of fun into the whole thing too.
The Good
It does what it says on the 'tin'.
It's really robust and should last both children
It's great fun. My sweet little girl turns into a lunatic shark.
It's quite 'natural' in how their bodies float, and I love that they can use it on the front or back without having to change anything.
The Bad
The bag for it has to be bought separately, and it's really expensive for kit we don't use that often (our local pool requires an adult to every child under 4, so we only get to go when daddy is available. Add to that, with daddy the swim for the four of us for 90 minutes costs almost £20, so we rarely go swimming, so great as this is, £21.99 plus another £12.50 for the specially made bag is crazy money.)
The Swim Fin is one size fits all, but the packaging makes that confusing by having a size on it for legal reasons. That can be confusing at first as we weren't sure which of our daughters to try it on.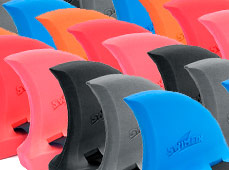 The Verdict
This is one of those things you look at and wonder how we got through our own childhoods without it. Seriously, no one thought of this before? It's fabulous.