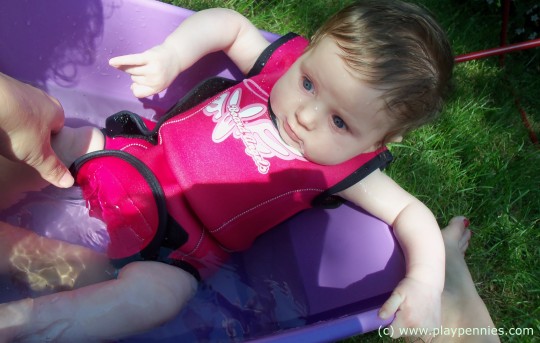 Summer days, lazing in the shade, escaping the heat with a splash in the pool… ah, if only, right? Well, if you have a baby between birth and 18 months, you may not find yourself living the dream right now, but that doesn't mean you can't get into the pool with your baby. And whether it's on holiday or baby swimming lessons, the Board Angels Baby Wrap in pink and Kangaroo Poo Baby Wrap in blue are perfect for little ones.
The RRP on these is £19.99, but they're currently available at M and M Direct for £9.99, and I think they are amazing value for money.
The Baby Wraps are available in six sizes – 0 for ages 0 – 3 months, 3 for ages 3 – 6 months, 6 for ages 6 – 9 months, 9 for ages 9 – 12, 12 for ages 12 – 18 months and 18 for 18 – 24 months.
The very first thing I can tell you about this bit of baby equipment is how incredibly easy it is to put on and take off of a baby. It opens up completely so that the whole thing can basically lie flat, you place baby on top of it, and do up the shoulder strap, the side and the bottom with a very strong Velcro that fastens super firmly!
T
his is especially useful when it comes to taking a wet suit off of a child. It can be a real pain as the material gets stuck and drags on the skin, so this is just so, so, so much better.
The Velcro is really strong. We haven't used it every day or anything like that, but in the last three months we've used it a few times and there hasn't been any 'wear' on the Velcro. It's still as firm and secure as the first time we used it.
Because of the Velcro and the fact that it opens up, you also have a bit of leeway on the size and how long it will fit your baby. I have a rather large baby girl and at three months, she's in four to six month clothing, but her 0 – 3 month suit still fits her fine.
The wetsuit also dries really quickly, so if you've had a swim and hang it up, you can put it back on again a little while later and have it be practically dry. Because it's thicker than a swimming costume I was concerned that it would take longer to dry, but it was dry before my toddlers costume was.
My baby wore this with a cloth swim nappy on but nothing else. I did keep an eye on the areas where the Velcro and skin touch or on the rather heavy seams, but none of it seemed to be causing any problems against her skin.
The designs are simple and the colours plain and I think that's unfortunate. There really are just the two options, whereas they could make these into fabulous colours and give consumers a lot of choice. I find the colours to be a negative.
One of the few things that the description does say is that the Baby Wrap is made from 100% man made materials, and I can't decide if that's a good thing or not.
Also, I suspect that as a wetsuit it's meant to keep baby warmer in the water, but there's absolutely no information on it at all, so I have no idea!
The Good
Ease of putting on and taking off
Drying speed
Sturdiness of the product
Really good quality
The price
The Bad
I can't really think of anything bad, to be honest, but if I absolutely had to come up with something, I'd say the fact that they only have a three month life is probably the biggest negative. By the time your baby grows out of them, you could have owned six of them, which would make them more costly.
Oh, and as always, the colours – pink or blue. Sometimes you don't want to dress your children like stereotypes. These could really come in all sorts of funky colours and patterns!
The Verdict
Good quality, good value for money (if you're going to swim a lot, like over summer), good stitching, good fabric, quick drying, easy on and off, what's not to like, really? I think it's a good product and when we grow out of ours, I might buy another, assuming I can't find a better colour from somewhere else.