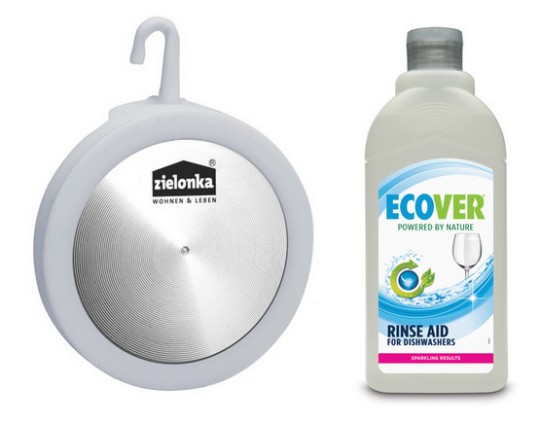 Children with allergies have made me extremely aware of the pollutants and toxins in our environment, from what we wash in to what we clean with. Over the last few years we've steadily made the change to using products in our home that are not only better for the environment, but better for us too. Reducing the toxins and harsh chemicals in our home has made a huge improvement to the eczema levels in our home, so much so that we now follow the 80/20 rule - we're good 80% of the time, so we can be less good 20% of the time without severe consequence, like say, facepainting without developing a rash.
It's taken us the longest, however, to change dishwasher, and it was only when I took a swig of water from my daughter sippy cup that I realised her water tasted like the dishwasher smelt. I was really upset by this, and started investigating alternative methods of keeping our dishes clean.
While you can use bicarbonate of soda, lemon juice or vinegar to do a pretty effective job, my husband isn't convinced by these and prefers something out a bottle, from a shop! So we decided to try the Zielonka Dishwasher Smell Killer (£13.23) in place of a lemon fragraced hanging thing we had been using, and Ecover Dishwasher Rinse Aid (£3.26) instead of a supermarket brand one.
With the very first load of dishes we did with the Ecover Rinse Aid, we could see an immediate difference in the dishes. I was quite shocked, actually, that they could come out of the machine so much drier and with a definite sparkle that our previous product hadn't given us at all.
I thought this might mean they have a more unsightly chemical make-up, but on looking at the ingredients I found that it is made up of water, alcohol, non-ionic surfactant (which means another type of alcohol used in cleaning grease) and citric acid, so while you wouldn't want your child drinking it straight from the bottle its  still better than other brands, with ingredients like  Methylchloroisothiazolinone (and) Methylisothiazolinone and Perfume.
All in all, I'm really happy with this rinse aid. It works beautifully, my dishes look polished, and I don't freak out quite as much about what we may or may not be ingesting.
The other problem we had with our dishwasher was the smell. I bought a scented hanging goody to help with the problem, but it really just masked the odour, probably by covering everything with perfume, which isn't great really.
I have no idea how the Zielonka Dishwasher Smell Killer actually works, except that it's made out of a special high-grade stainless steel. It doesn't require refills, doesn't require cleaning, and just keeps trucking. It has made a huge difference to the smell in the machine, although it doesn't actually clean the washing machine, so if food gets caught in the pipes or the corners of the dishwasher, that will still smell and you still have to stay on top of maintenance that way.
Within 24 hours, however, we could smell the difference, and if I take it out now, after a month's use, it looks like it did the day I put it in. Not bad for £13.23. They say it is indestructible, which I believe, but I do expect that in time the plastic hook bit will actually be the bit to go. I'm certainly much happier with that than with the other bit washing chemicals over the things my babies put in their mouths.