Whack Around The Head Review
No, I am not kidding, that really is the title of the book that I grabbed for our month of self improvement and rejuvenation. It's called Whack Around The Head and it is written by leadership coach and NLP trainer, Sharon Eden.
It is all about giving you, the reader, a proverbial kick up the bum and encouraging you to be more successful in your life and work. And by this I mean happiness and fulfilment as opposed to lots of cash, although that would be nice too.
Sharon talks about ways in which you can stop feeling dispirited about life and your career, and how to stop that "get up, work, survive, go to bed and repeat" feeling. A feeling that most of us have had at one time or another.
I tend to struggle with that sense of futility in the winter months when the cold reduces me to a soggy mess of pathetic human. So, this book was a great way to boot out the cobwebs and take a fresh look at things.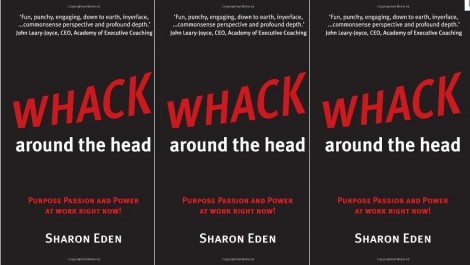 The book is very well laid out with lots of spaces and the writing broken up into bite-sized chunks. It doesn't feel like an overwhelming opus but rather like a simple go-to guide that you can absorb in a few (and rare) spare moments.
I liked the quotes from famous names like Nelson Mandela, the occasional bursts of humour, the down-to-earth tone, and the very solid advice. However, this is not for the sceptical. People who dislike self-help genre books will be lost in the first few pages.
This book is for people who are interested in learning something new and nabbing some gems of advice to help them improve their lives. It's worth a read, it really is and it's on sale on Amazon for £9.24.