Mr Men My Complete Collection For £37.99 @ The Works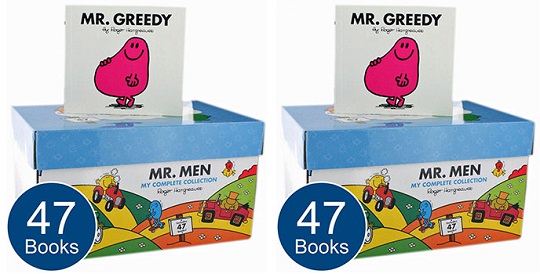 Get the ENTIRE Mr Men collection by Roger Hargreaves for just £37.99 at The Works. This collection of 47 books is worth £117.50 so you'll be saving a whopping 68% or £79.51. It'll make a fabulous christening or birthday gift for little ones but it'll be loved by all.
The complete collection will keep Mr Men fans entertained for hours. This set contains all 47 of the much loved classic Mr Men titles packed into a cool, bright and colourful box. All of them are there from Mr Tickle and Mr Greedy (published in 1971), through to the new 'Mr Nobody', published in March 2010.
There's Mr Uppity, Mr Small, Mr Daydream, Mr Forgetful, Mr Jelly, Mr Muddle, Mr Dizzy and so many more for you and the kids to enjoy. The collection is a must for all Mr Men fans; they're children's classics with a character somewhere in the box set that will appeal to any and every individual.
Enjoy the whole Mr Men box set at a ridiculously discounted price from The Works!