It's summer time, according to the temperatures out there anyway, and that means time for  holidays, travel and a little bit of jet setting. While I love travelling, and do have a fair grasp of German and a few other Germanic languages, I always find trips to places where I don't know anything about the language a little more stressful than relaxing.
Most of us do a second language at school, and few of us go on to use much of it later, but research has shown that the younger children are when they're exposed to second languages, the easier they learn it and the faster they relearn it and subsequent languages later.
Kids Learn Lanuages found a real gap in the $100 billion language learning market: programmes aimed at children. So they created a learning DVD based on associative learning, helping children to learn through on screen visuals, and hearing the words associated with them. Seeing and hearing is believed to reinforce the learning, making it easier.
Wanting to find out more about this language learning system for children, we sent a set of French DVD's to Lauren, mum to six year old Dan, for her feedback.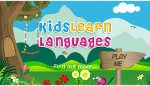 "The important thing to keep in mind with these DVDs is that they're aimed at pre-school children," she started off. "This might seem a bit daft, when kids are still learning to speak English never mind throwing in another language. But I do firmly believe that it is a good idea to expose children to another language at an early age. They might not retain it all, but it hard wires the brain to be more receptive to other languages. Later on in life I've no doubt they'll thank you for it."
I heartily agree, and was pleased that she was willing to give the DVDs a fair go. One thing I was concerned about was whether they were pitched at the right level, since I'd imagine entertaining and educating pre-schoolers can be quite tough.
"At six years old, Dan is probably a little bit too old for these DVDs." Lauren admitted, "However, he still found them interesting. Probably for about ten minutes at a time, but I think that's more than long enough to get kids to focus on something like this, no matter what their age."
I wondered why Lauren wanted to teach her son French, and whether they had tried any other was  of teaching him.
"
I was particularly interested in these discs as they start French in Reception at my son's school. I wanted to be able to support him in this, but I have about two years worth of secondary school French to draw on, and that was quite a few years ago now.
We did a family learning course together, where we practiced simple words and learnt a few verbs and adjectives. That was helpful, but it is hard to find an hour every week for this. And if he was tired, or a bit under the weather then he wouldn't focus at all."
I'd imagine that classes for a little child can just be too long, and really, who wants to take longer to get to and from something than your child's going to be at it? Which makes DVD's at home  a really good idea, I think. You can pop it on for a few minutes after breakfast or before dinner in the evening, introducing learning in a fun and bite-sized way.
"These discs were very much on the same sort of level as the family learning course and approached learning French in pretty much the same way with songs, games, and activities," said Lauren.
What normally bothers me about DVD's or computer programs is that they can be terribly annoying. I once did a computer course where I had to turn off the narration and read everything, because the guy's voice made me have violent feelings towards the computer.
Lauren has pretty strong feelings about the voices used in the Kids Learn Langauge set – "I found the voices used almost unbearable," she said. The voices are American, but that wasn't the problem for Lauren. "It was the over pronunciation of the English words that drove me bonkers," she told us. "The inflexion used made her sound like she  was a computer generated voice, and was just a bit odd."
The cartoons were much better – very simple and a bit babyish, but that pretty much meets with the target audience. "Despite being a bit older, Dan didn't mind that the cartoons  were rather simple at all, and the use of animals was a major plus as it kept his attention in a way that a person or live footage wouldn't."
Overall, Lauren thought these were pretty good.
"I wish they'd change the narration as it is probably the thing that will stop me putting them on more. But they are DVDs, which is a major plus for me as it means I can play them on the TV and keep those sticky little fingers away from the keyboard on my laptop."
You can watch a preview of the various DVD's and there are music CD's posters and gift sets to choose from too, and they're all currently on sale too £10, down from £12.
Kids Learn Languages courses are available in French, Spanish, Urdu, Hindi, Gujarati and Punjabi.