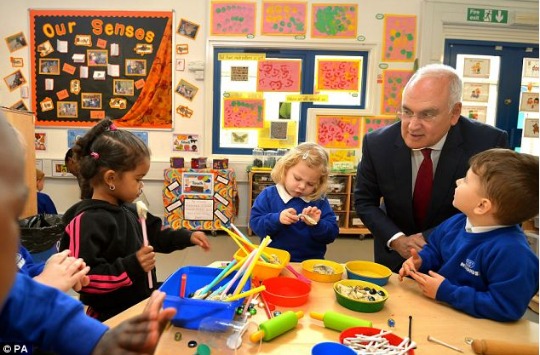 The head of Ofsted, Sir Michael Wilshaw, has urged families from 'poorer backgrounds' to take up the free nursery places that are offered for  two year olds, as it can help them catch up with their 'richer' peers in performance. The government scheme of free nursery places for two year olds has been extended this year so that even more families than before are entitled to free early years education. Children get the free places if they are in care, have disabilities, special needs or their parents are in receipt of benefits and earn under a certain income.
It seems that 50% off all children entitled to 15 hours of free nursery education are not using it, and without it the gap between disadvantaged children and those from better off homes looks to start before they are even in formal education at age 4.
This issue causes a lot of strong feelings amongst parents, with some feeling that is unfair that free 'childcare' is given to those who are at home with their children, although many who are entitled are working and on low incomes. Others feel that two is too young to start any sort of formal education setting anyway.
There is also the issue of finding the places in over-subscribed nurseries, especially with the government's plans to double the free pre-school education for 3 and 4 year olds from 15 hours to 30 hours a week from next year.
So what do you think about this issue? Are you entitled to a free nursery place for your 2 year old, and if so have you taken it up or not?
To find out if you are entitled to free education and childcare visit the government's childcare web pages here.