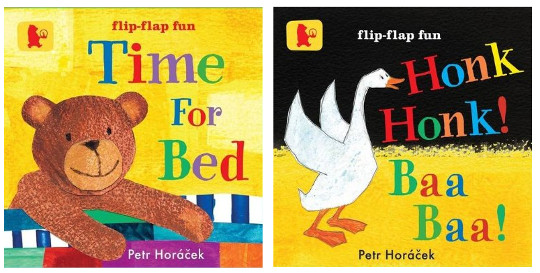 My daughter turned one a few weeks ago and books are one of the things that she enjoys is 'reading' books. When we opened a package containing two books, she immediately toddled over to me and grabbed one of the two books in our parcel. The books are Time For Bed and Honk Honk! Baa Baa! (£4.99) by Petr Horacek.
The books are perfect for little ones because they are made from a hard board, so they can withstand quite a lot of baby led abuse. They also have bright and fun colours and images, without being garish or overwhelming.
They're called 'flip-flap' books, which I find a bit odd as that leads you to believe there are liftable pages and pieces, but actually all it is is that each page is cut off, so each page is shorter than the next. It all culminates in the final page being a picture that includes the extra bit of all the pages, so for example in the Time For Bed story, the final page sees the little boy tucked up in bed with the extra space on the pages making up a colourful blanket. In the Honk Honk! Baa Baa! book, the final page makes up a lovely black and white cow.
The stories aren't really stories. They're typical baby book one liners but it's quite nice because you're able to embellish or add to the story as you go.
While these are baby books, my toddler has listened in intently when we've 'read' them, and has enjoyed them too, especially making the sounds of the animals. The Time For Bed book has been great for underpinning the bed time routine too: we play,we eat, we bath etc.
I love books that support or explain things we're doing or trying to teach. Of course it should be fun for the children, but if they're subtly learning, then all the better. These books are inexpensive, great quality and lovely, and particularly ideal as first birthday, pre-speaking books, ideal for  lending itself to creating conversations about the pictures.