The Blogging For Dummies Review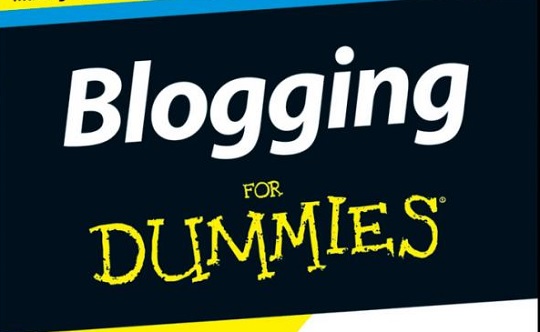 Apparently I am on something of a mission when it comes to the For Dummies books lately. A few weeks ago I reviewed the Children's Health for Dummies book and it was something of a hit in our family, this week I'm all about the Blogging for Dummies book. Now, as you probably are aware, blogging can be quite a lucrative and exciting thing to get into, but for those of us who are short on time, the learning curve can be quite intimidating. That's where this book comes into its own.
Blogging for Dummies is laid out in a very intuitive style with each chapter moving into the next seamlessly. You don't have to flip back and forth through pages to find information or sit back and feel a bit baffled by it all. The first chapter outlines what blogging is, how to fine tune your blogging angle and plan and other essentials. This section I found quite informative and very well written. If you have ever sat staring at an empty blog page, wondering what on Earth you are supposed to blog about, then this is where they will help.
The book then moves swiftly onto topics like: entering the blogosphere, choosing and hosting blog software, setting up your blog (this includes detailed instructions on choosing a platform like Wordpress or Blogger or Tumblr), finding your niche, creating great content and so on and so forth. I was disturbed to find that Mommyblogging was not only spelled as one word (aargh) but that it is classified as an actual topic. That could just be me hating that entire label and what it does to women bloggers who happen to write about parenthood.
It doesn't stop there. Blogging for Dummies goes into using social networking effectively - and this is a great section - as well as how to make money, how to blog for other businesses, and then an entire section dedicated to the power of tens. The latter is really an entire section with top ten lists in it. Very useful actually and very much worth reading.
I found this book to be informative, well laid out, clearly explained and packed with facts that really, every blogger should know. Ideal for the newbie and the intermediate blogger, Blogging for Dummies will take your site to the next level and make sure that you get to grips with this online phenomenon. And what's even cooler is that it is on sale on Amazon* at the moment. Brilliant.