3 For 2 On Valentine's Day Books @ The Book People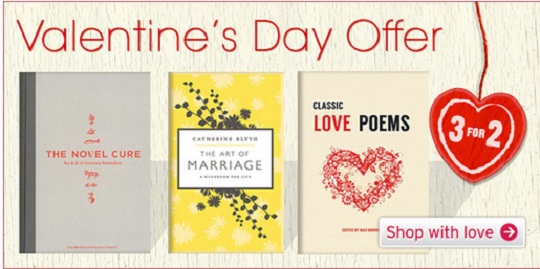 Fancy reading some romance into your life? How about some poetry? Or a jolly good love story? Well The Book People have decided to offer you 3 for 2 on a huge range of Valentine's Day books and stories and poetry, so get in there and enjoy.
Click here to get reading with The Book People*
Some of the offers are lovely. There is the Art of Marriage, Classic Love Poems, Penguin's Poems for Love, Love Crafts and so much more. They have even included books for kids and books for grown ups, books about gardening love and flowers and crafts.
You have a really nice selection of titles to choose from here and you don't need to buy gushy lovey stuff as a Valentine's Day gift or treat, there is lots of useful stuff too. Recipe books and gardening books and even children's books.