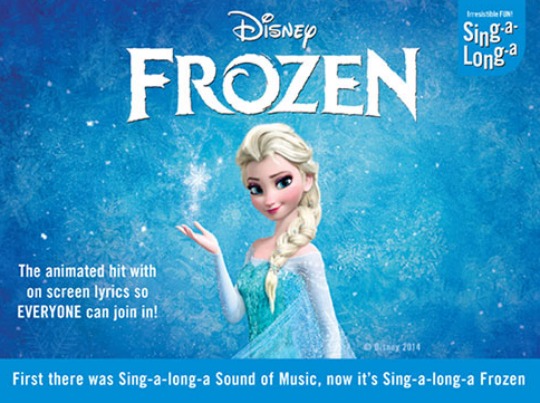 Oh my, Disney Frozen Sing Along, think the kids would like this? Basically, it's the movie but the words appear on screen with the songs and as the title suggests people are encouraged to Sing Along.  These showings can cost as much as £16 in London, so good on the Odeon for bringing it to us for just £3.
I think this is the kind of thing that could become a proper day out. Get together with a few friends and their kids, let the kids all dress up in their Frozen dresses (you all have them now right?!) and make a proper day of it. All for just £3 per head. That's the price for kids, adults, basically anyone attending the showing.
We blogged Cineworld Movies for Juniorsa few days ago and although the choice looks less from the Odeon it does look slightly more up to date with Maleficent coming soon.
Frozen Sing Along is running until the 21st of August, and Maleficent from the 22nd to the 28th, at least at my local Odeon. Yours may differ, so head on over and check it out.
If you fancy either of these, especially Frozen, I'd suggest booking online in advance and not just turning up. You may of course get in no problem but the last thing you want on your hands is a disappointed Frozen fan!
What do you think? Ready to Sing a- long- a- Frozen?
 Thanks to tambrose @ HUKD!