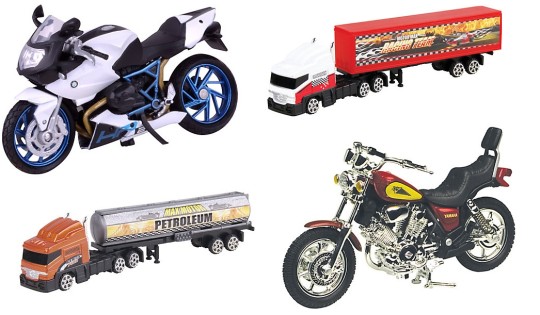 I love these trucks and motorbikes from John Lewis all currently in the sale. You can have them delivered to you for £3, or you can collect from either John Lewis or Waitrose for free.
There's the John Lewis Orange Truck* for £2.50 reduced from £5, and at H4 x W19 x D3cm it's a pretty decent size. There's also the red version* for the same, and in a similar size.
The motorbikes are really cool too - they are die cast and come up at 7x13x5cm - just a great size, I think, as they're small enough to play with, and big enough to not be swallowed or a choking hazard - that said, they're still only recommended for kids over 3.
There's a Yamaha bike*, which is apparently 1:18 to scale. And there's also a BMW motorbike*. They are all just £2.50 instead of £5, and I think £10 for the four is brilliant price, really!
Well, I know which one I'd love to find in my Christmas stocking ;)