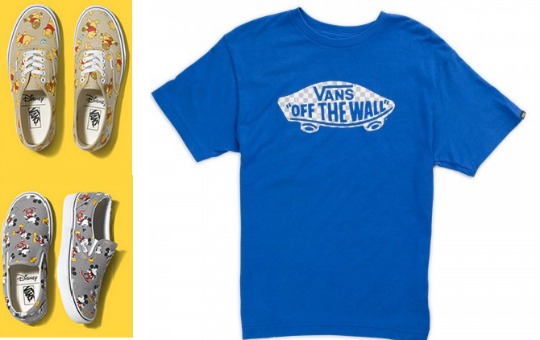 It's only taken like two years for Vans to bring their Disney range to the United Kingdom. If you have not yet seen this magnificent Vans/Disney collaboration then you need to have a look here*. Sign up and you will find out more via email, like their official release date. Bagsy the Minnie Mouse ones!
If you love your Vans and desperately need a pair from this uber cool brand then use promo code VANSFAMILY0515 at the checkout to get a whopping 30% off your purchase. It's not all footwear either, they do hats, tops, accessories and more. Oh and they offer FREE delivery on ALL orders too! You cannot grumble at that.
My boys go daft for Vans and it's because they are "in". I actually don't mind buying them as they tend to last and only need replacing once their feet have outgrown them.
Vans aren't just for the older kids but little ones too, check out these Infant Classic Slip On Shoes for Girls* and for Boys*. Use the code and they are just £14 instead of £20.
These Vans Classic Slip Ons are very popular around my eldest son's age group (9-10) and come in a variety of colours. You'll pay only £18.90 a pair and that includes delivery.