Tube Town Inflatable Playhouses Review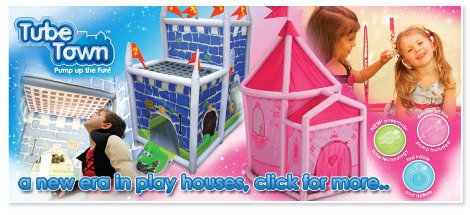 I've always loved the idea of a tree house in the back garden for my children to spend hours in every summer. Of course, the reality of a first floor maisonette in London means not only do I have no garden and no tree, but the three months a year where the children could play in the treehouse, hardly seem to make the investment worth it!
It's great then that The Ninja Corporation have recently launched their new range of playhouses in the UK. These playhouses are perfect for indoor or outdoor use, which in turn is perfect for cold and wet winter days.
The Tube Town range has arrived in the UK and we were lucky enough to be able to get one in to the PlayPennies HQ to review. The range currently consists of two houses – the Disney Princess Castle and the Gingerbread house, although there's a Dragon's Lair rumoured for release in the UK around January or February. We handed the Gingerbread House right over to PlayPennies mum Selina to see what her family thought of it.
"Well," she started, "there are no half-measures here - this is a proper house for kids, it's huge!" Selina's not wrong. The house is 135cm high by 90cm wide and 125cm long – larger than some living rooms in houses I've lived in!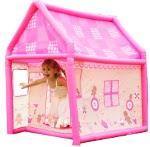 "As it's so big," says our testing mum, "the kids are able to have a proper game of house and mummy and daddy get to join in as well! The downside is that, as it takes up so much space in our flat, we aren't able to keep it up permanently."
The houses have doors, windows and detailed pictures and designs, so with the very pink Disney Princess houses, little ones are attended by Belle and the other Disney Princesses, both inside and out. The Gingerbread House, on the other hand, is still pink, but decidedly less so. It is surrounded by lollipops, cupcakes and – yes – gingerbread men.
With unique tube technology, Tube Town playhouses can be inflated through specially designed valves using the high-volume hand pump included in just a couple of minutes, according the manufacturer. Whilst inflation is extremely quick, deflation is even faster thanks to a rapid release valve.
Selina partially agrees, "Luckily it's not too difficult to set up and take down." However, she does think that the 'couple of minutes' to inflate is a bit of a stretch. "Depending on how strong you are, I would say about 5 to 10 minutes.
On top of that, you need a good bit of force to inflate it fully, otherwise it just kind of collapses. I personally had to wait until my husband got home to set it up for me. Deflating on the other hand is simply a case of pulling the plug."
The house is designed to be suitable for indoor and outdoor use and comes with pegs to secure it to the ground on windy days too, but Selina isn't sure about it remaining outdoors.
"The Gingerbread House is designed for indoor and outdoor use and comes with 4 pegs to secure it to the ground. The inflatable tubing seems very sturdy and that's promising. I don't have a garden, so only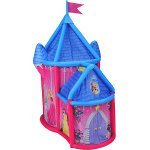 used it indoors but ours already has a couple of holes in the roof where it brushed against the edge of the tumble dryer so I wouldn't want to test it against the elements."
According to the manufacturers, the lightweight design offers immense flexibility when playing outdoors – if it begins to rain, they can simply be deflated and re-inflated indoors or even picked up and brought inside.
As Selina mentioned, each Tube Town playhouse comes with its own storage bag for easy carrying between friends, child minders, grandparents and even holidays.
Selina's final thoughts?
"The kids love it and it appeals to me as a product specifically because it's easily transportable. It's not fiddly to take down, it's lightweight and even comes with it's own matching carry bag."
The Gingerbread House costs £49.99. Stockists to be announced soon!
The Disney Princess Castle is priced at £79.99 and assembled is slightly bigger than the Gingerbread House at 185 cm high x 110 cm wide x 150 cm long – possibly better for a garden or empty cellar than a living room, but great for imaginative play. Stockists include Amazon.co.uk and Toys R Us.
The Dragon's Lair will be available in January or February at Early Learning Centre online, price TBD.