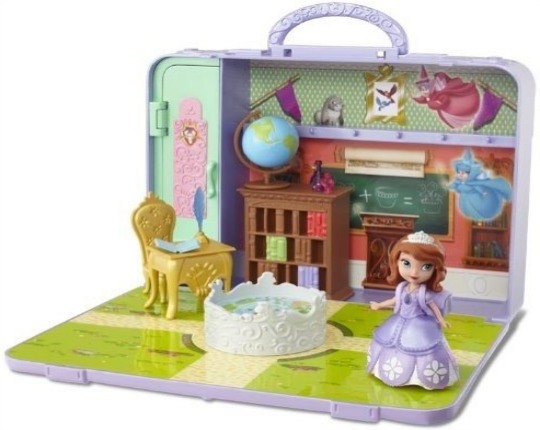 It's half term in most places and we all know that the kids are going to drive us to distraction so you need to keep them occupied. Unfortunately, the house still needs cleaned, meals need cooked, you catch my drift... meaning that you cannot entertain the kids 24/7 and even if you gave it a good bash they would still moan that they are bored. That's where toys like this Sofia the First Portable School Set comes in. It can be taken to Granny's house or taken to wherever your little one is. It's reduced at Argos just now from £29.99 (really?) to just £10.99.
The Sofia the First Portable School is suitable for children aged three years old and above. There's small bits that are quite simply choking hazards to little tots.
This little school play scene is all contained in a suitcase. Sofia's locker can be opened or closed shut and the set comes with ten accessories. Those include a very regal feather pen, a backpack, a book and a globe.
You can reserve and collect the Sofia the First Portable School Set for FREE from your local Argos or pay £3.95 for home delivery.