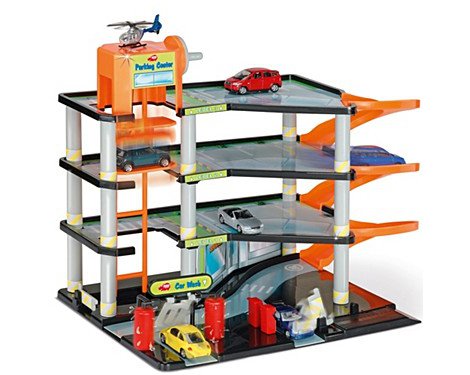 Debenhams are selling this kids play Parking Garage for £5.40 instead of £20.
I love playing with cars - toy ones or real ones, it makes no difference I simply love them all.
I don't remember owning a doll when I was a little girl, I had teddies of course, but I spent most of my time playing with cars, go karts or Star Wars figures.
I especially loved playing with car related toys like this Parking Garage.  My cousin had one and I spent many a happy hour, or ten, just driving cars in, parking them in a space - which, of course, required some VERY complicated manouevres and display of excellent driving skill - and then driving them out again when it was time for 'them' to go.
There aren't any cars included with this parking garage so you'll have to make sure you have some, otherwise it's going to be a bit rubbish.
Talking of rubbish, I've done a bit a of scouting around for reviews of this parking garage and the ones on the Debenhams site are not good. However, I've also read reviews from people who say they haven't had any problems with theirs, so it's going to be up to you whether you decide to take your chances for a fiver or not.
Ah yes, money - the published price on Debenhams is £6, use the following codes at the checkout and you'll get an extra 10% off and free delivery too: use code PV79 for 10% off and SHD1 for free delivery.
Thanks to jackbauer77 at HUKD