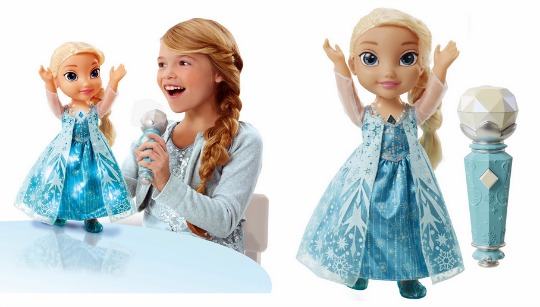 Last year the toy everyone was desperate to get hold of was the Snow Glow Elsa from Frozen, and this year the new must-have toy for Frozen fans is this: the Frozen Sing-A-Long With Elsa doll. It's on the Top Toys lists for Christmas 2015 from all the major retailers and so far no one has budged from the £39.99 RRP... until today! Amazon have dropped the price by £5 to make it £34.99, and that includes free delivery as well.
This new Elsa seems to do a little more that last years Snow Glow Elsa as she's more interactive, and you get the full song this time:
Simply place the microphone up to her to activate the hit song "Let It Go", which she sings in full. She also lets the child join in; just take the microphone away, sing the song and she carries on where you left off. The doll also says 15 different phrases from the film.
Does that sound like something Father Christmas might be bringing this year? If your Frozen fan doesn't have the Snow Glow Elsa* that was so hard to get hold of last Christmas then that is down to £27.99 with free delivery, so that's another alternative to consider.