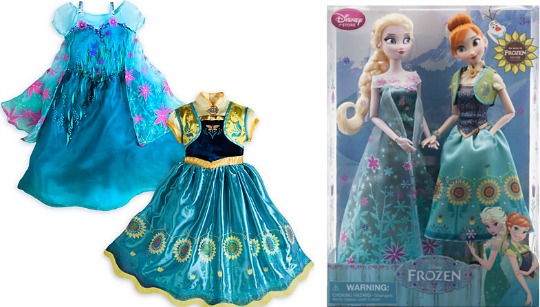 Have you seen it? Have you SEEN it? And breathe. As you may have guessed the new Frozen Fever range is now available online at Disney Store and oh my, I LOVE it!
Yes I know, it's not the cheapest but when is the Disney Store ever? What you can't deny though is the quality, the dolls look like the characters they're supposed to and the dresses, well they are second to none in my opinion.
And what about those dresses? At £30 each they're certainly not cheap, plus Disney have decided our children aren't to have a favourite character this time around and parents will have to buy both Anna and Elsa. Same with the dolls. They're more reasonably priced at £25.95 for the set but yeah it is a little annoying.
Still if you want to have Frozen Fever merchandise before anyone else, Disney Store is the place to go. You know that as soon as that short movie hits the screens at the end of March, it won't be how much things cost but whether you can get them at all. This Disney blockbuster is showing no signs of slowing down and Disney are making the most of it!
The new range will be available online only until March 1st, then from that date will be in selected stores (Oxford Street, Westfield White City, Bluewater, Liverpool One, Birmingham (Bullring), Cardiff, Manchester Trafford, Harrods and Glasgow) only.
Post and packing from the Disney Store is £4.95, unless you're spending over £50 - then it's free.
What about you, love the Disney Store stuff and to heck with the cost or holding off for the supermarket equivalents?
If you want to know more about the new movie you can get a sneaky peek, including pictures, here.