Frilled Tutu Skirt £3.99 @ M&S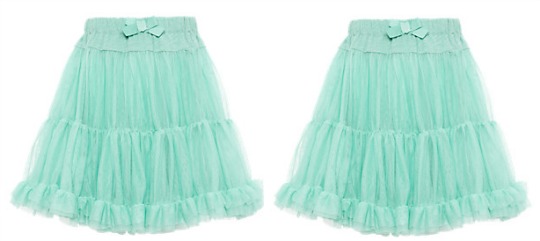 I saw these and immediately thought of Disney's Frozen. If your daughter is Frozen daft, then I bet you she would love this beautiful frilled tutu skirt from M&S. What little girl doesn't like spinning around in a skirt like this, making it twirl higher and higher?
This was originally £14 but is reduced to £3.99. Sizes 12-18 months through to 2-3 years.  There were bigger sizes but they sold out very quickly.
Official Disney's Frozen clothing is hard to find in stock anywhere and comes at a premium. Pacify your child with this alternative, or use it to make your own Elsa costume.
Even if Frozen isn't your thing, this is a pretty wee skirt and it would be suitable for a party or even for everyday wear. It is available in pink but it's £14 still. To be honest I love this icy blue colour and let's face it Frozen has made it very fashionable.
Collect for free from your local M&S, it doesn't work out free if I do this because I can't keep away from the food hall. Prefer to have it delivered? Then it's £3.50.