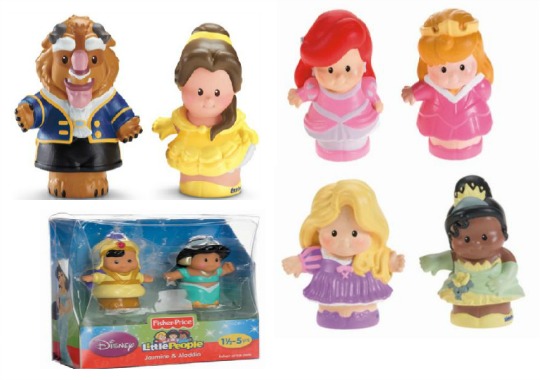 I absolutely adore these Disney Little People! You are getting a pack of two for only £2.99 from Argos. How ace is that? Pretty ace if you ask me, considering these were £7.49, then down to £3.99 before they took a further £1 off.
What you get is a bit of a lucky dip. You will definitely get a pack of two Fisher Price Disney Little People but which ones is up to whoever picks your order at Argos. I have been known to send the member of staff back if it's not the one I want. Don't be afraid to do this.
These are compatible with the Little People Disney Princess Songs Palace and the royal abode recognises which figurine has entered and responds with their name. Put them on the dancefloor and they can dance away to their own Disney movie song. This just amazes me.
Which ones are available? Belle & Beast, Ariel & Aurora, Rapunzel & Tiana, Cinderella & Prince Charming and Jasmine & Aladdin (my personal favourite). At this price you can afford to collect them all.
The Fisher Price Disney Little People Pack of Two are available for reserve and collect only. This is a free service from Argos and means you have the convenience of collecting from your local Argos store. Stock availability appears to be good at present, but this is a bargain so things can change quickly.