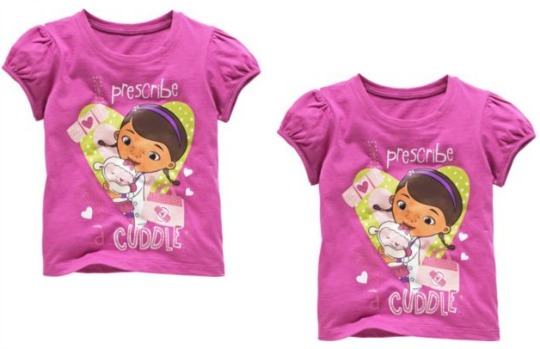 There's something so addictive about Doc McStuffins. I know it's got catchy tunes but you should see my 15 month old son when it comes on. He goes daft. Please a little Doc McStuffins fan with this T-Shirt from Argos. Not only is it cute but it is reduced from £4.99 to £1.99. What a steal! If you have a birthday coming up then grab on of these to stick in with your present.
The Doc McStuffins Cuddle T-Shirt is a bright purply pink colour and features the Doc herself with Lambie on the front. It reads " I prescribe a cuddle." too.
This top is available in many Argos stores but obviously it's going to be popular being priced at under £1.50, so you want to get it reserved if you see it near you.
It's made from 100% cotton. so it's ideal for those warm summer's days. That's if those ever appear. Sizes available are 18-24 months, 2-3 years, 3-4 years and 4-5 years old.
You can Reserve and Collect the Doc McStuffins Cuddle T-Shirt for FREE from an Argos store or pay £3.95 for home delivery.