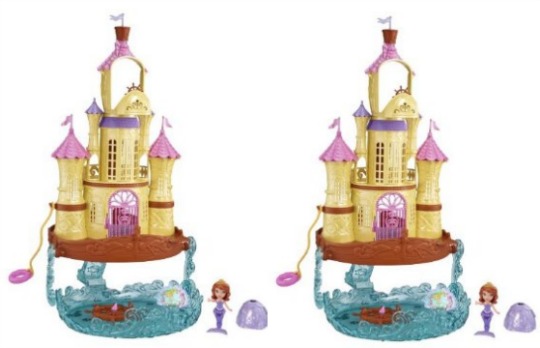 Have you got a Sofia the First fan in your house? If so, then you need to check this out. It's £29.97 at Asda Direct and £33 at Debenhams but Amazon have it for only £22.50 including free super saver delivery. Nice one!
The Disney's Sofia the First 2 in 1 Sea Palace is actually a royal ship.  Sofia can turn from Princess into mermaid when you take her skirt off. There's a slide from the ship into the mermaid cove. There's even a spinning wheel and a seashell throne with Sofia's aquatic friend Oona underneath.
If you'd rather Sofia stopped splashing about with her mermaid pal then there's plenty for her to do up on the deck or even inside the ship. The middle level has a dining area, whilst the top level  is where she can steer the captain's wheel. The Sofia doll included unlocks phrases in the Magical Talking Castle, if you own that already. It's suitable for age three and above.
Now's the time to buy items like this for Christmas. Any popular character toys like this sell out in the last few months of the year, so when you see any bargains from now on I recommend buying and stashing them away until the festive season. This is what I have started to do.