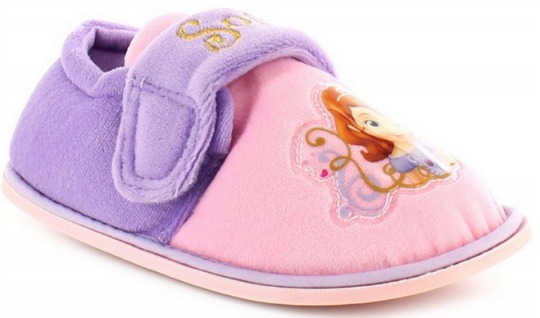 I try to buy the kids new pyjamas and slippers for Christmas. There's nothing better than getting all cosy for the cold winter mornings. Over at Argos, they have slashed the price of Disney Sofia the First Slippers from £9.99, to £5.99 and now to £3.99. What a great price for such a practical present.
Sofia the First, is a sensation in her own right. Okay, so we know of other Disney Princesses that are a bit more famous and a smidge more popular, but she is still a hit with the little ones. These slippers will put a smile on the face of any Princess Sofia fan, and you might actually stand a chance of getting your child to wear them.
Stock levels vary depending on size, but I ensured that I checked thoroughly and overall, there's stock in around 80% of UK stores. They are available in junior size six through to ten.
With a velcro fastening, they are ideal for tiny feet. They come in a pastel pink and purple colour with a Princess Sofia motif on the front.
To save on the £3.95 delivery cost, just reserve and collect your pair of Sofia the First Slippers for FREE from your local Argos store.