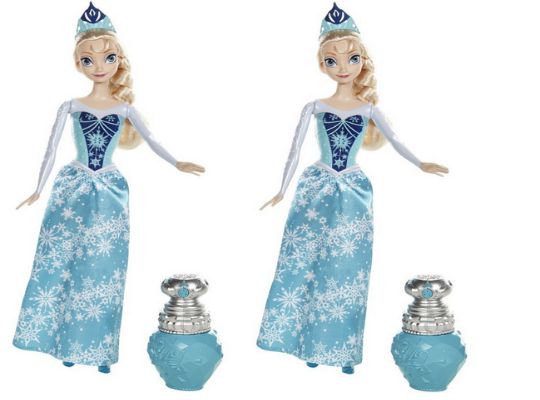 The Disney Frozen Royal Colour Elsa Doll is priced at £26.99 from Toys R Us and £27 at Debenhams. Get it for under £12 from reputable Amazon seller Toy Haven UK. Priced at £11.95, it includes FREE delivery. It is coming for the United States, but it shouldn't take an eternity to get to you. Well, not according to the reviews for this seller. It is worth bearing in mind though, if you are in an hurry for it.
The Disney Frozen Royal Colour Elsa Doll has a magical element, she comes with a magic Perfume Bottle. Fill the bottle up with cold water and spray over Elsa. It makes her ballgown change colour.
This Elsa Doll comes dressed in her trademark Snowflake Gown and even has a matching tiara. There's an Anna version of this doll and she can be found for just £13.10 from Amazon. Check it out here*.
There are some other Disney Frozen bargains to be had too: Disney Frozen Elsa Musical/Light Up Dress* from £11.84 delivered and Disney Frozen Sparkle Elsa Doll* from £11.40.
Thanks to Jenny on our Facebook page.