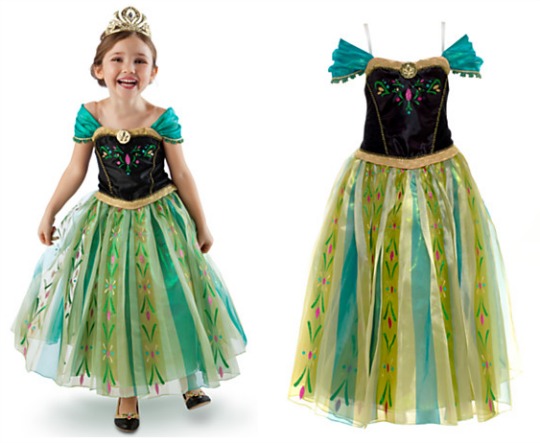 Right, I know what you are thinking. It's £30, and £30 is A LOT for a dress up costume, BUT this was £60. The deal of the day at Disney Store is the Frozen Deluxe Anna Dress. It is GORGEOUS and if you have the ultimate Frozen fan at home then it'll be the best thirty quid you will spend this Christmas. Sure, there are cheaper options elsewhere but none that have reviews like this stunning deluxe dress, and if you are still in doubt have a read of the amazing reviews on the Disney Store site.
We all know that Elsa is the favourite of the two sisters, but Anna is every bit as great in my eyes. This dress is so sweet, and if I had a daughter I would be buying it now!
This Frozen Deluxe Anna outfit is the dress worn by Anna at the Coronation at the start of the film. It's certainly regal and fit for a little Princess. With no fastenings, it's easy for little ones to pop on and off.
Unfortunately there's no store collection, sort it out Disney Store, psst..it's 2014! That means you have to pay the £4.95 delivery charge, that's a touch more palatable if you are ordering other bits too.