Daisy Duck Eau de Toilette Spray £2.79 @ Amazon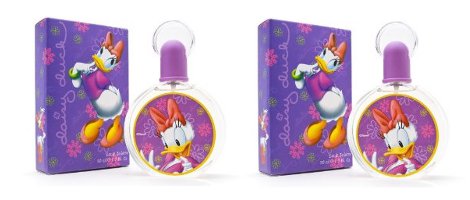 This is a brilliant deal for a gift for a little girl. With 72% off, this Daisy Duck Eau de Toilette Spray goes from £9.95 to just £2.79.
When I was a kid there was a range of 'stinkies' as my dad called them – which angered me profusely at the time – called Tinkerbell. The perfumes were all real, but the make up was  plastic. I even belonged to the Tinkerbell club  and every month they'd send up stickers and another mini fragrance, toy make-up and so on. I don't recall if they were really good fragrances or not, but I certainly loved them.
I guess this is the more sophisticated version of the same thing, without the club and stickers.  This feminine scent is described as containing "a blend of citrus lemon, sweet spice and fresh florals" and is apparently suitable for day time or casual wear. As compared to all those important events children attend.
There's 50ml of it, and I think the bottle is rather  cute, but there aren't any reviews for it, so if you buy it, do come back and drop us a note so we know what you think about it!