Children's Character Items From Just 60p @ Sports Direct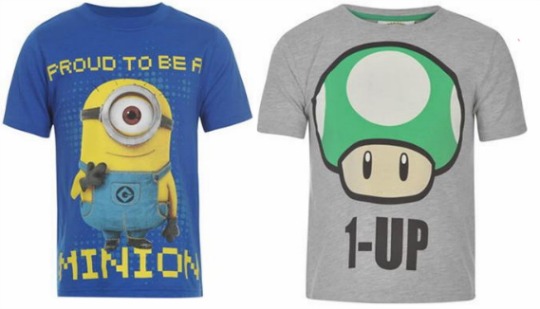 Do you remember when you were little and you would open a Christmas present, only to find out it was a pair of Ski Pants from M&S? I was always appreciative of all presents but clothes were the boring gifts. Unless they had Care Bears or My Little Pony on the front. Character clothing is fun for kids, so if you are planning on buying the sprogs some clothes for Chrimbo, then head on over to Sports Direct. Not only are they cheap with Character items from 60p, but they have a wonderful selection.
There are so many lovely Character Clothing items but here are a few of our favourites: Peppa/George Pig T-Shirts* just £1.25, Moshi Pyjamas* only £2, Doc McStuffin Long Sleeve Top* just £2, Minion Socks* from £2.50 and Star Wars T-Shirt* just £3.
Think stocking fillers... it's not all clothes over on Sports Direct. Check out these Character bargains: Disney Infinity Wallet* just 6op, Three pack of Character Stampers* just £1, Disney Frozen Skipping Rope* only £1.50 and Disney Doc McStuffins Bracelet* only £1.50.
You can Click and Collect for £4.99 from a Sports Direct store (ouch!) or opt for home delivery for the same price.