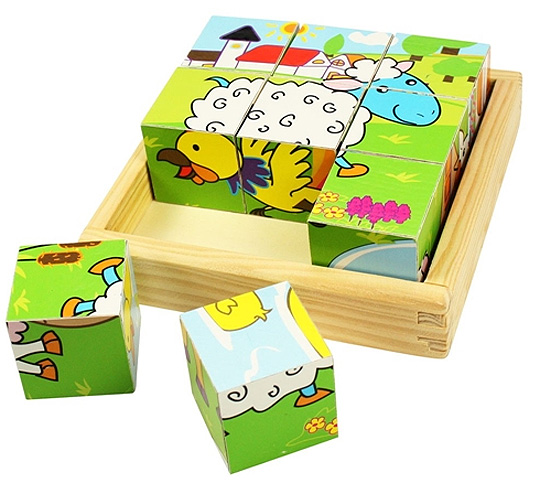 Play are selling this fabulous wooden cube animal puzzle for £3.99 - the other usual suspects are selling the same thing, and similar, for around the £5.99 mark.
If you're a regular PlayPennies reader it's unlikely to have escaped your attention that I have a bit of a thing for puzzles, and I love cube puzzles just as much as I do the traditional flat piece ones.
Nine blocks make up this wooden cube animal puzzle and each cube surface features a different puzzle piece, which means you have six puzzle pictures to complete.
All of the pieces sit together in their own wooden tray (this totally satisfies my love of wooden toys too, by the way) and will provide quite a challenge for young puzzlers as they turn the cubes over to find the right pictures for the right puzzle and fit them all together.
They could also be used for stacking practice too - I love stacking - which helps to develop fine motor skills and is, quite frankly, just plain FUN.
There's no delivery costs to pay on UK orders with Play so £3.99 is all you're going to have to part with to buy this wooden cube animal puzzle.
Thanks to wishihadadonkey at HUKD