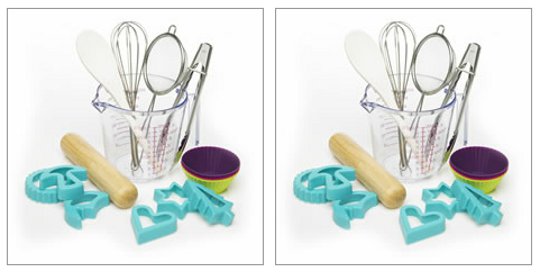 Wilkinson are selling a Baking Set with 18 pieces for £4. If you pay for delivery, it'll cost you an additional £4.95, but you can have it ordered to your local store and pick it up for free.
We have quite a few different baking sets made up from different offers and subscriptions and I actually think this is a pretty good set and at a fantastic price too.
This set comes with a measuring cup, spatula, whisk, sieve and tongs, rolling pin, silicone cup cake cases and six cookie cutters. It seems like a fairly decent set too – the silicone cups can go in the oven as they'd need to, but under adult supervision. Everything but the wooden rolling pin can go in the dishwasher too.
We have silicone cups that look almost identical to that, and I must say they are the best thing ever. I just love using them in place of paper cups – they come off pretty easy, clean easily and you don't end up with paper in your mouth.
I personally think this whole set is a great deal!
Thanks to goonertillidie at HUKD