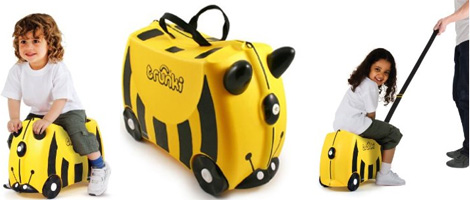 Trunkis have taken the childrens' luggage world by STORM! They have also captured the imagination of adults too.
Your mission, should you choose to accept it, is two-fold:
See how many Trunkis you spot on your travels, come back and tell us and two, help us start a campaign that will convince the Trunki people that there should be grown up versions.
It's so funny reading comments and reviews, requests and pleading for an adult sized one is a common thread that runs through most of them.
Now, just in case you've been living on Mars for the last year or more and you have NO idea what I'm talking about, here's a quick Trunki 101:
It's a hard-shelled suitcase for kids that they can ride on - there you go, that's the bare bones of it!
It conforms to current airline hand baggage size limits, it has straps on the inside to hold everything in place and comes in various guises - whenever we find deals on the Gruffalo ones, everyone gets very excited.
Even the rich and famous love their Trunkis - Rod Stewart has been spotted in an airport with one (it was a Gruffalo one if you're interested).
This Bernard Bee Trunki should be £34.99, he's £26.24 at the moment - but beware, Amazon prices fluctuate more than the London Stock Exchange so dawdle at your own risk.
Thanks to amibees over at HUKD!