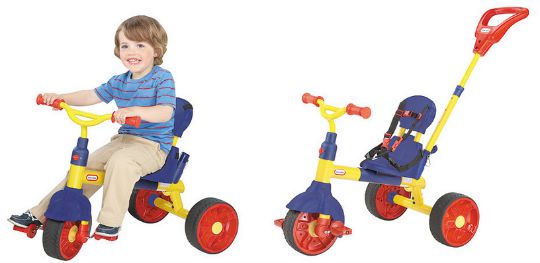 Debenhams have 30% off some of their Little Tikes products at the moment, and this is another that stands out as a really great bargain. The Little Tikes 3-in-1 Trike is down from £50 to £35, and that includes free home delivery too.
This trike is suitable for children from around 9 months of age up to around 3 years or until they get too big to ride on it! From 9 months you can use it as a parent powered push along with your child strapped into the seat and using the fixed steering and parent handle. As your child becomes more confident you can let them control the steering and pedalling, then finally remove the parent handle all together and off they go!
Little Tikes have a great reputation for sturdy and high quality outdoor toys, and this is no different. My toddler had the 4-in-1 design very similar to this and it's great, and I would definitely recommend it.
There's no delivery charges to add to the £35 price as you get free standard delivery included, but if you would rather use the free click and collect you can do (plus you get a free £5 voucher for doing so!).