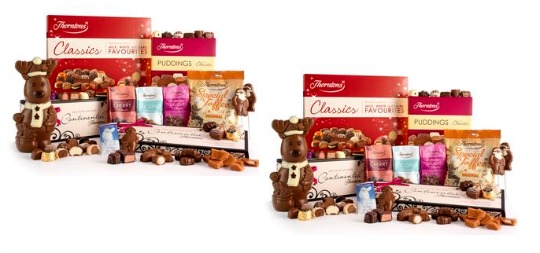 The Thorntons Traditional Gift Collection is on a special offer at the moment on their website, reduced in price from £50 down to £30. BUT there is also a discount code that will also work on this item - add XMASTR at the checkout and another £10 gets taken off!
The code seems to only work on this particular item, and it is probably only once per customer too, but it's tested and working.
The Free Delivery with this item is not working in conjunction with the discount code, so if there's nothing else you want to bump it up to the £35 for Free Delivery then add another £3.95 for the charges.
This is the full list of what you get for your £20:
Continental Milk, White & Dark Signature (300g)
Continental Milk, White & Dark Collection (150g)
Classics Milk, Dark & White Favourites (309g)
Classics Favourite Puddings (180g)
Milk Chocolate Ronnie Reindeer Model (250g)
Original Special Toffee Bag (325g)
Classics Turkish Delight Bag (101g)
Classics Very Cherry Bag (96g)
Classics Totally Coconut Bag (98g)
Mini The Snowman™ & The Snowdog (22g) x2
Milk Chocolate Santa Lolly (25g)
Now that is a lot of Thorntons chocolate for £20, and depending on who you have it in mind for you could split it up to make several gifts, put the choccy reindeer and santa in the kid's stocking and maybe keep a couple of treats for yourself too! Go on, you deserve it.
Big thanks to Ruth on our Facebook page for this one!