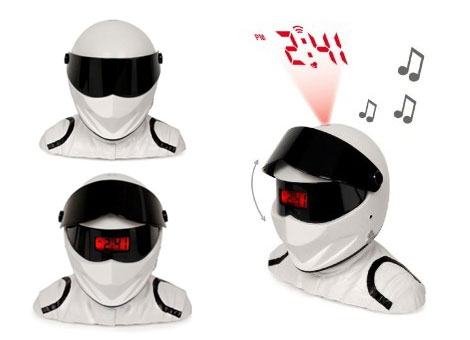 Amazon are selling this Stig Alarm Clock for half-price; £12.50 instead of £25.00
I've been watching Top Gear for at LEAST the last 20 years.  It went through a bit of a dodgy patch, I thought, when Vicki Butler-Whatsername (and yes, I do know it's Henderson) and Kate Humble were involved.
But for the last long while, the combination of Hammond, May, Clarkson and The Stig and all their mad antics have made it great once more.
If you have a Top Gear fan in your household then they're going to go mad for this Stig Alarm Clock.
The time is displayed behind Stig's visor which can be closed to shut out the light from the LCD display, but then you can't see the time.  Fear not because this isn't just any old Stig Alarm Clock, oh NO!  It's a projection Stig Alarm Clock, press a button and the time will be projected onto the ceiling.
The alarm sound for the Stig Alarm Clock is the Top Gear theme tune - what else? - and it requires 3AA batteries which aren't included; there's no mains option either it's batteries all the way.
Some of the people who've bought this say it's smaller than they were expecting.  I hope they weren't hoping for a life-sized head and shoulders Stig Alarm Clock because no wonder they were a little upset - it measures about 15cms by 18cms.
Thanks to shadow1 at HUKD