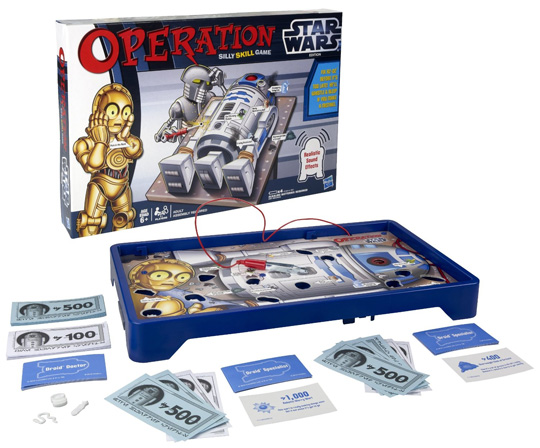 Amazon are selling this Star Wars version of the classic game 'Operation' for £12.59, its usual price (on Amazon) is £17.99.
Click HERE to take a look at Star Wars Operation *
I loved playing Operation as a kid, and if there'd been Star Wars Operation to play with when I was that age too I'd have been even MORE in love with the game!
I wonder if I'm a bit of a frustrated surgeon?  You see, I still thoroughly enjoy playing operation now!  I still get the same sense of nervous anticipation when it comes to easing out the funny bone, and the same sense of elation if I manage to do it first time.
With Star Wars Operation, you won't be removing a funny bone from R2D2 - he's the character on the operating table who needs your surgical skills - but a lightsabre and other pieces of R2's anatomy. Other than that, the principle is exactly the same as ordinary Operation: earn money by removing parts with your tweezers, without making the buzzer sound.
I think Star Wars Operation sounds properly awesome and will go down a storm with any young Star Wars fan.
Thanks to zippypratt at HUKD