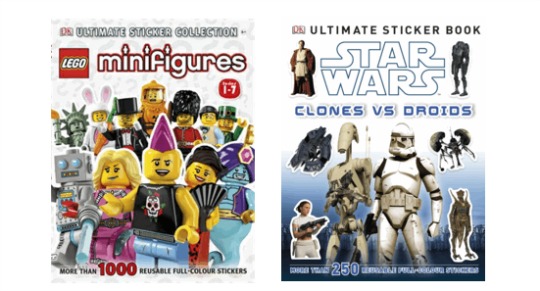 In Game's Clearance section the items are also 3 for 2 and there a few things there that would make great gifts for kids. For £2 each you can get the Star Wars Clones Versus Droids Ultimate Sticker Book or the Lego Minifigures Ultimate Sticker Book. They are both included in the 3 for 2 offer, and both are also eligible for free delivery.
The cheapest I can see either of these is £4.99, and they are still selling for higher than this most places, so £2 is a great price.
They are big thick A4 sized sticker books, with hundreds of stickers in, and the RRP for them is £7.99. They have big stickers to apply on the activity pages, plus loads of smaller spares to do whatever you want with. (My son stuck spare angry faces on the pc plug to warn no-one to unplug it whilst I was working!)
If my son didn't already have these I would be grabbing them without a doubt. I'm considering getting a few to put away anyway, ready for the birthday parties he gets invited to. For £2 each I would really recommend these for Star Wars or Lego fans, there is so much in there it will keep them occupied and happy for ages.