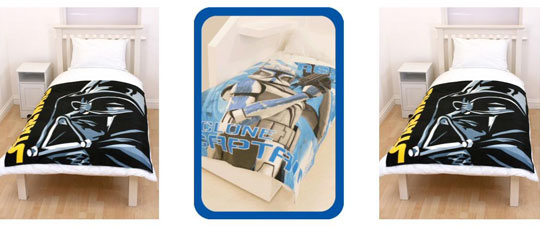 If you've got a young Star Wars fan in your family then pop over to Play and have a look at these Star Wars Fleece Blankets on sale at Play - there's Darth Vadar for those who prefer the Dark Side of the Force or a Clone Wars one for members of the Rebellion.
My youngest son is Star Wars mad; in fact, most of the family are and us older ones fondly remember when we'd all sit down to watch whichever Star Wars movie had been included in the Christmas TV schedule; even though we own them all on DVD now, if there's a Star Wars film on TV...it has to be watched.
With the weather forecasters threatening a winter of apocalyptic snow fall and temperatures that will make the Arctic look tropical, it might be worth considering adding the odd blanket or two to your collection - well it's either that or turn the heating up.
I'll go for the blanket option; it's cheaper and there's nothing quite like snuggling up under a cosy fleece blanket on the sofa.  I confess, I won't be doing that under Star Wars blankets but my youngest will be.
Both these fleece blankets measure 150 x 120 cms, can be washed at 40C and tumble dried too - although, as they're made from 100% polyester they'll come out of the machine virtually dry and can be flung over a radiator to dry in about 20 minutes.
Both blankets cost £5.99, at the moment, instead of their usual £12.99 and you won't pay anything for UK delivery either.
Thanks to andywedge at HUKD