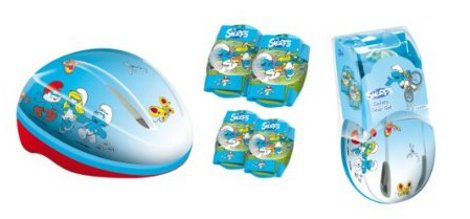 Amazon have a Smurfs Safety Gear set on offer at the moment, with 10% off. While that's not a huge amount, its such a cute set, even 10% is something.
As a kid I loved the Smurfs and we had a huge collection of the little blue people that I carried around all over.  I'm quite excited to see the Smurf movie – and finally I have an excuse to go see a kids movie, now that I have a child!
Anyway, there's not a huge amount of information about this set on Amazon, and there aren't any reviews on it yet, so I assume it's quite new, compliments of the movie and all.
It does say, however, that it's not suitable for children under 36 months, and is only for domestic use. It must be used under adult supervision and apparently, is not to be used in traffic either!
The set comes with a  helmet, wrist and knee pads, and although it's blue, I think it's pretty unisex in decoration!