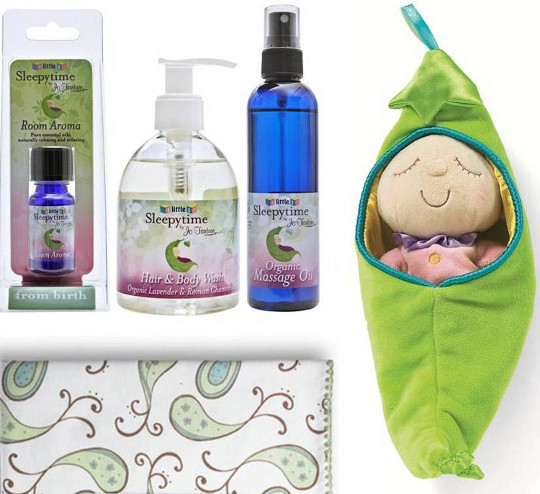 4Little1 have a gorgeous looking Sleepytime new baby/new parent/ babyshower gift set available for £39.99. That's 20% off the price of the individual items, and they're also offering free delivery with it.
Babies are genetically predispositioned to not sleep through the night. Their tummies are too small to stay full and their brains need the milk for optimal development, right through the night, according to some studies, so no products is going to be a cure-all. That said, however, there are definitely things every parent can do to make sleep time easier and as beneficial as possible.
This gift set has the full Sleepytime range of organic massage oil, room vapour and baby hair and body wash. The Set also includes a generous lightweight cotton swaddle and beautiful soft plush Sweet Pea in a Pod toy.
While you can't promise a full night's sleep, you can help by establishing a bath and bed time routine, a comfy snuggle blanket and for later on and day time hours, a soft toy for your little one to love.