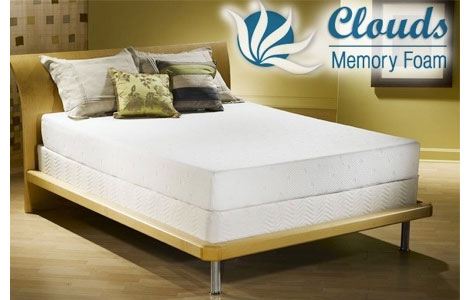 If you've been longing to sleep on a memory foam mattress but run away, in terror, because of the usual prices then this Groupon deal is for you.
I've been sleeping on a memory foam mattress for years and it is one of my most favourite things in the whole wide world, EVER!
There's really nothing that can compare to them; they are supremely comfortable and all the claims made about them are absolutely valid.
You DO toss and turn less, your body heat IS much better regulated and if you sleep with someone who fidgets, 1) they'll fidget less and 2) you won't end up bouncing around all over the place when they get in and out of bed.  In fact, you'll barely even FEEL them get out of bed.
Just in case you're not familiar with Groupon, here's how it works:
You buy the deal through them for significantly less than you would by going direct to the retailer.
When the deal is finished - this one expires at 11.59pm TONIGHT (Friday 15 July) - you will be emailed a voucher code, which activates on Monday 18 July.
Then all you have to do is go to www.cloudsmemoryfoam.com to choose your mattress and pay the £19.99 delivery fee.
Just to remind you, this is what you're getting:
• £250 instead of £1,199 for ONE Super Deluxe Memory Foam mattress in any size from single to super king
• £450 instead of £2,398 for TWO Super Deluxe Memory Foam mattresses in any size from single to super king
Sweet dreams!
Thanks to cyclops at HUKD