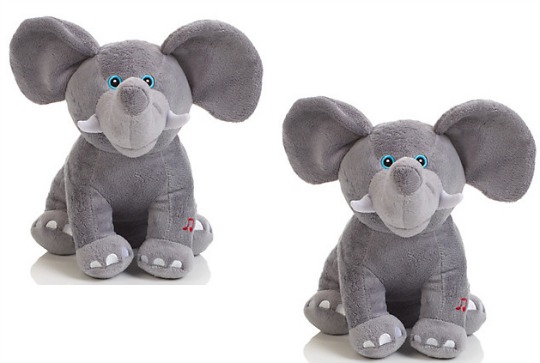 Needing a toy for an upcoming birthday? Get yourself over to Marks and Spencer and you will find the Interactive Elephant Toy. It might look like any other Elephant cuddly toy but it's not. Marks and Spencer have slashed the price of this toy from £25 to £9.99 to just £5.99. An ideal price for a birthday party present.
The Interactive Elephant Toy has a name, he is called Tusker. Press his foot and he will educate everyone around him as he tells facts about elephants. Toys like this are great for relying information that sticks in a child's mind. I had a toy that told me the capitals of the world, and it really helped me through school.
He is grey, funnily enough, and has piercing blue eyes. He is definitely a must for elephant lovers, and I actually know an adult who would love this.
Tusker requires three AAA batteries and these are included. He is not suitable for children under three.
You can Click and Collect the Interactive Elephant Toy from your local Marks and Spencer for FREE. If you don't have the time to do that, then you can get Tusker delivered to your home for £3.99.