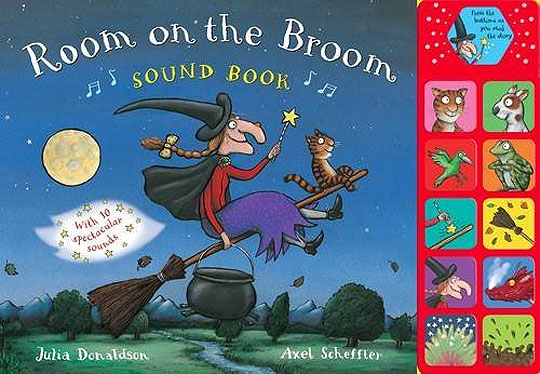 Amazon are selling Room on the Broom sound books for £5.86, instead of £12.99.
Did you watch the TV adaptation of Room on the Broom over Christmas?  I missed it, was it any good?  I imagine it would have been, especially if you're already a fan of the Julia Donaldson Room on the Broom story!
Just in case you don't know the plot, here's a quick Room on the Broom 101:
A witch, and her cat, are zooming around happily on their broom one evening when the wind blows the witch's  hat off. A dog brings her hat back and he joins them for a ride on the broom.  During the course of the evening they pick up lots of other passengers but then the broom snaps and the story gets a bit tense from this moment forward.  I won't spoil the rest of the story for you...
This Room on the Broom sound book takes the normal story book version a step further: it features 10 sounds that really bring the story to life, with cues on the pages as to when each sound button should be pressed.
Here's what one reviewer has to say about it:
This book with sounds is absolutely brilliant. We all love Room on the Broom and now this edition has just cemented that feeling.  I got this for one of my nieces and she loves it. Well worth it as you're child is likely to want to read it time and time again and with this edition they can do most of it themselves. 
Thanks to aria at HUKD