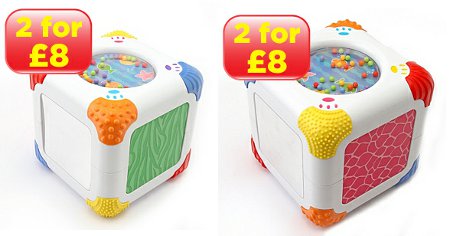 There's 15% off the Play & Learn Sensory Cube at ASDA at the moment. They're selling it for £4.25 instead of £5, but if you buy another toy you get the two for £8, making this one just £4 and 20% off.
This sensory cube received mixed reviews from those parents who had already bought it from ASDA. Two loved it and one hated it, calling it a waste of space and disliking that it didn't make any noises.
The cube has a mirror – but it's a child safe mirror, so not particularly clear, I'd imagine – and has tinted panels and colourful prints. The description says that it makes a noise when touched, but one reviewer said that it didn't. ( I wonder whether they mean the beads at the top?)
It has rubber corners with different textures, which is probably great for a teething baby to gnaw on.
This toy is recommended for children over 6 months and is said to stimulate mental activity and encourage hand-eye coordination.
Thanks to lucerysmum at HUKD