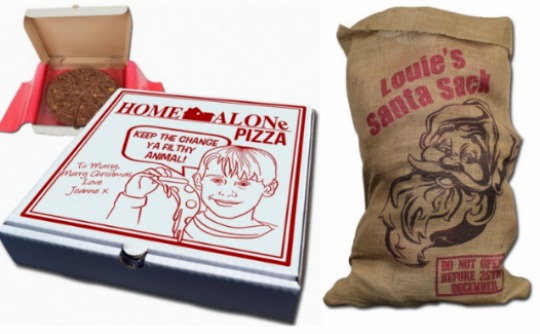 Have you ever visited the Your Design site before? I hadn't until last night and I must admit I was impressed with what they have on offer. I am a sucker for personalised Christmas goodies and they certainly have plenty of those to choose from. They aren't expensive either, in fact I would be inclined to say they are on the cheap side. Their Personalised Christmas items start from only £3, so go have a look.
What really caught my eye over on Your Design was these Personalised Chocolate Pizzas. Available in Home Alone and Teenage Mutant Ninja Turtles' Michelangelo. Both priced at £11, you get to put your own personal message on the box. I MUST have that Home Alone one.
There are lots of other wonderful items too like these: Giant Personalised Santa Stocking for £7, Personalised Christmas Cushion for £15, Personalised Bottle Bag only £5, Personalised Dog Bone Hanger for £3, Personalised Bah Humbug Hat for £5, Personalised Christmas Apron only £9 and Personalised Kids Snowman T-Shirt* only £10.

You can get your personalised Christmas items delivered for £2.95 or you can pay £5 and have them with you Next Day. I find that quite amazing, that they can make them up so quickly.