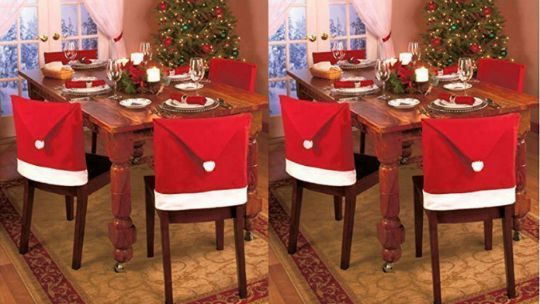 These are seriously COOL! Who doesn't want their dining chair dressed in a Santa Hat? These Santa Hat Dining Chair Covers can turn a boring seat into a festive treat, and all for just £1.25! That's right... reputable UK eBay Seller: shop_with_ebuy-gb are selling these from as little as £1.25 with FREE delivery. Too cheap not to buy them. Teachers, get them for your class. Mums and Dads, the kids will be more than happy to sit at the dinner table with these on.
The Santa Hat Dining Chair Covers are made from a soft felt material. They probably would fall apart if put in the washing machine so view them as a disposable item with the potential of re-using.
You don't just have to buy them singularly, but they come in packs of TWO for £2.49, FOUR for £5.99, SIX for £7.49, EIGHT for £9.99 and TEN for just £12.49. ALL with FREE delivery.  A tip... if you need four buy two sets of two, as it works out cheaper for some reason.
You don't have to opt for the FREE delivery as there is the option to collect from Argos for FREE too.