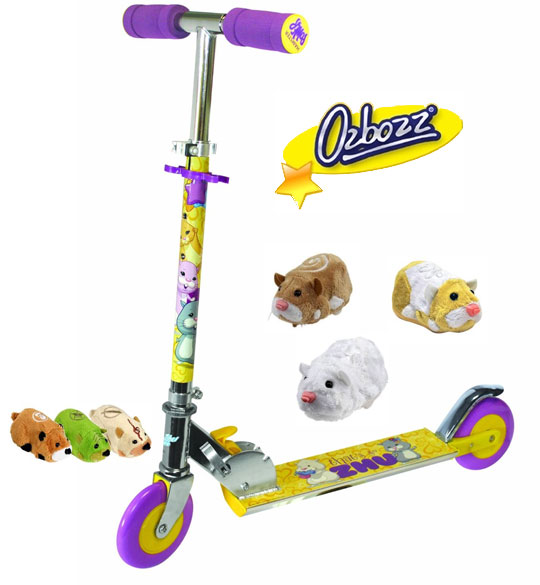 Amazon are selling this Ozbozz Zhu Zhu inline scooter for £9.99, rather than its original £19.99.
I remember when inline scooters first became the hot scooter to have; if you had a three-wheeled scooter, with big wheels, you were just NOT cool.  I also remember predicting they'd be just a fad and would, themselves, be very uncool before long.
I also thought that any of the Zhu Zhu pet incarnations wouldn't be around for long - another one of those weird toy 'things' that disappear as quickly as they arrived - how wrong I was (wow, those words don't taste very nice, thank goodness I don't have to say them very often!).
This Zhu Zhu inline scooter is suitable for young motorised hamster fans aged five years and older, and boasts the following features:
Adjustable and padded handlebars
Anti-slip footplate
Rear brakes (brakes on scooters? Where has the danger of hurtling down hills knowing you can't stop at the bottom gone?!)
ABEC bearings in the steering mechanism (I'm assuming that's important...); and, of course
Decorated top to bottom with Zhu Zhu hamster images
It folds up too, by the way, making it nice and easy to store away or sling in the boot of the car and take out and about with you.
Thanks to vakeralshah at HUKD