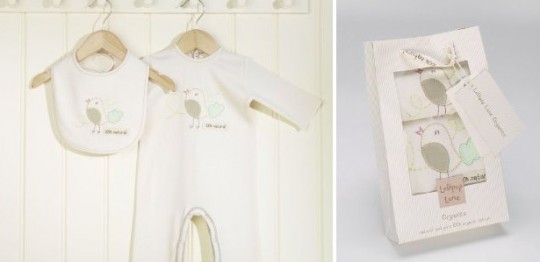 There's 60% off the Lollipop Lane Organic Romper and Bib Gift Set from Amazon. It's normally £16.99 but is currently available for £6.88 from Amazon, and with free delivery.
Someone asked me recently whether I thought organic clothes were necessary for babies.  I concluded that it's certainly not essential, unless your child has serious skin issues, but that it would be so lovely to put my baby in things that weren't bad for her, weren't a potential health hazard, and didn't have any impact on the environment or labourer rights! It's certainly not something I can afford to have my children in all the time though, even though I wish I could.
This set consists of a Bib and a Romper. It has a bird design and comes wrapped in a gift set, ready for a baby shower or baby's first Christmas.