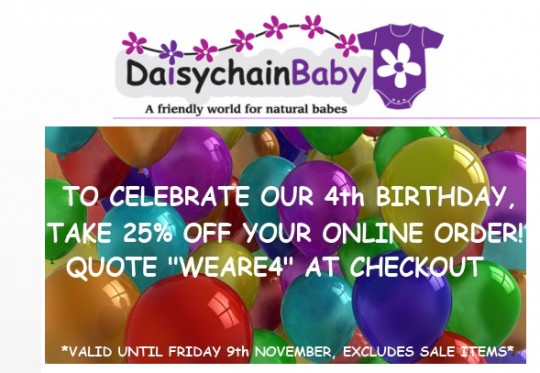 DaisyChainBaby are turning four and in celebration, they're offering t shoppers 25% off of all full price clothes in store. Just use the code below for a great saving on gorgeous clothes and shoes for your little one.
Dress up for less at DaisyChainBaby
Discount: 25%
Expires: 9 November 2012
Discount Code: Weare4
DaisychainBaby are an eco-friendly online boutique, offering a super range of organic baby clothes, organic children's clothes and accessories for 0-5 year olds. DaisychainBaby also stock ethically produced and handmade baby and children's clothes.
They source only the highest quality items featuring bright colours and unique designs. Their collection includes organic cotton blankets and muslins, playsuits and sleepsuits, hats, socks, tights and legwarmers, handmade dresses, comfy trousers, tops, pyjamas and much more – everything for the discerning baby, toddler, child and parent!