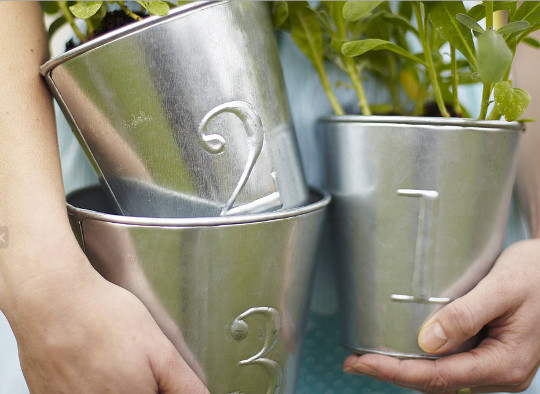 Not on the High Street has a sale on right now, with generally around 15% - 25% off a range of summery items, but this particular set of three numbered flower pots is reduced by 75% to £6.50, down from £25.99.
There's something so lovely about reaching over the sink to the window sill to pick your basil, rosemary, thyme, parsley and any other regular herbs you may use in your kitchen. In my kitchen the window rarely sees sun, so my herbs are all out the back, which though still nice, isn't the same. Herbs are also so easy to grow, and I've had major success, usually, with buying reduced 'expiry date' herbs in pots in the supermarket and popping them in new, rich soil in a bigger container at home. They last for months and grow beautifully.
This set of three French style flower pots are numbered 1, 2 and 3, and they are galvanised steel nesting pots. So they fit into each other when they are empty.
Of course they don't have to house flowers or plants, but could be used for small item storage in the kitchen, playroom or anywhere you can imagine, really!
The sizes are: Small 12 x 12 cm, Medium 14.5 x 13.5 cm, Large 15 x 16cm, giving you a nice variety.