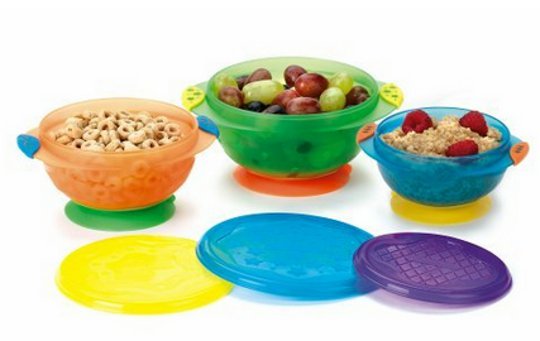 There's 50% off the Munchkin Stay Put Suction Bowls at Amazon, reducing them from £7.99 to £4.
Dinner time and food are always fun and games with most toddlers. We do Baby Led Weaning, so dinner time can double some times for messy play! At least with suction bowls, the food doesn't get tipped out in one fell swoop!
These suction bowls come in a value pack with three bowls in assorted colours.
The reviews are really spread between one and five stars  with some saying they're disappointed and that they don't stick to any surface, and others saying they pull off really easily.  On the other side of the star scale are people who love them, say they have very good grip, are a great set of bowls, great sizes, very cheap compared to other brands and that the lids stay on well.
I know with the suction bowl we bought for my oldest, we couldn't get it to stick on the wooden surface of our dining table, or the grainy surface of the kitchen counter. We have had success sticking it on the smoothe laminate floor though, so if you have a smoothe high chair tray it may wel just do the trick. One of the reviewers on Amazon recommends wetting the sucker before trying to stick it down and another confirms that this works.
Thanks to dudebar at HUKD