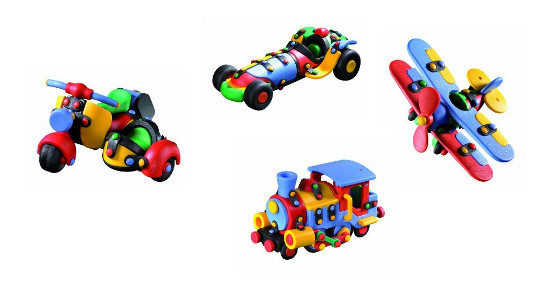 Amazon has a sale on various Mic-O-Mic toys, with discounts of up to 46%. These are sold by Amazon, so come with free delivery. There are loads of these toys discounted at the moment, so click the image to go to the whole list, but here are my favourite four.
The Mic-O-Mic toys are colourful construction toys made from high quality textured ABS plastic and a unique clip and pin system to create a wonderful realistic vehicles. The use of a special tool makes assembly easy and once created your toy will be strong and durable enough to withstand hours of play! The clever design and construction system means that these toys can be made and taken apart over and over again.
The Motor Scooter with a side car has moving wheels. It has an RRP of £21.99 by is reduced by 45% to £12.11.
The Racing Car has 44% off, making it £12.27. It also has moving wheels, great for real play.
For the By-Plane, you'll now pay £7.50, which is 25% off the £9.99. It doesn't have any moving parts, but it's still sturdy and bold for playing with.
Finally, the Locomotive has the biggest discount with 46% off, selling at £18.98 instead of £34.99.
I'm really impressed by the look of these. They look like a fun project to do with your child, and a great toy for after.